Saturday, November 24th 2015 – the day which saw the fifth annual running of DDD North, this time hosted at Sunderland University in the North East of England. In case you've never been to a DDD event before, they free events for developers which run on a Saturday with an agenda that is voted on by the community. Generally they cover a wide range of topics, including Javascript, Asp.Net, machine learning, coded UI testing and Raspberry Pi. Not only do they feed you at lunch time, but there's also a chance to win some pretty cool swag at the end!
I was lucky enough to get along to this years event again (last year was hosted in Leeds) and attend some of the sessions.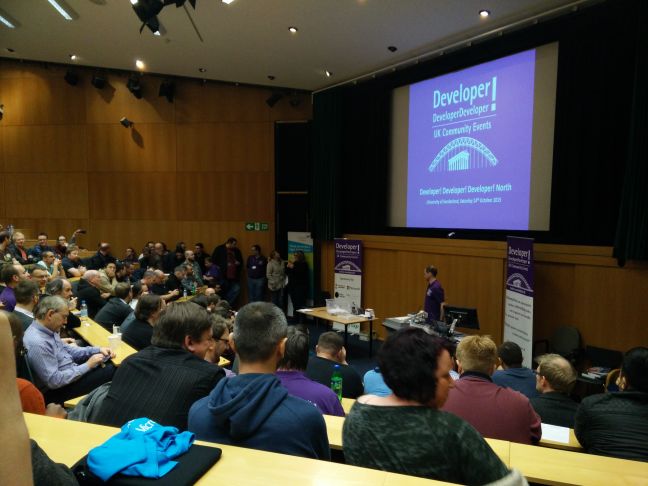 How I Became a Less Terrible Javascript Developer
Steve delivered an excellent talk concerning some of the more interesting developments in front-end build tools like gulp, webpack and babel and how to integrate them successfully into your web development build chain. This is a topic that I most enjoy and was pleased to see Steve promoting the workflow to others. Despite being involved in using all these technologies myself already, it was still interesting to see Webpack in action for the first time (personally I was, and still am, a browserify advocate).
I've seen some of Steve's other talks on Unity 3D and Asp.Net 5 at various other venues, and this one was of equally high quality. It's just a shame he didn't get to do his ES6 talk later in the day in place of some of the sessions that didn't run due to illness!
Deep Dive into Deep Learning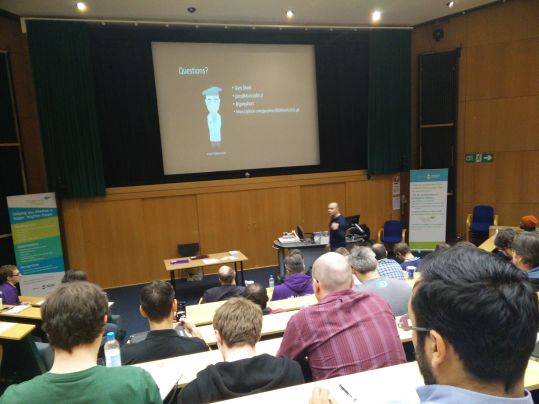 I'll go ahead and say up front that this was by far the best talk of the day for me. I was unsure about what to expect going into the room as I know very little about the subject, but I needn't have worried.
Having never been exposed to Gary before, I found him to be extremely enthusiastic and knowledgeable about the topic and was still able to deliver a talk that was understandable on the surface for people who didn't have such a grasp on machine learning and data science, or if you're like me, a passing interest in the subject. When you come away from a talk wanting to learn more and explore the topic for yourself, you know it's been a worthwhile talk.
Specifically, the talk covered deep learning and how it differs from neural networks. He also managed to distill the real meaning of such terms down to the very basics. He then covered using F# and R together, and how R generally has a reputation for being terse and difficult to work with, but that its libraries and algorithms are extremely useful and that they can be used from F#.
Microservice Architecture
Peter gave a solid talk on a possible microservice architecture on the .Net platform, and how to configure IIS to enable this scenario. There was some useful insight as to why you would want to create such an architecture and the benefits that it would give. I personally would have liked to have seen a more code-orientated talk with more examples and more about how the services were set up at a technical level, but overally I enjoyed the talk.
One of the gripes, albeit small, was that none of the rooms or lecture halls were using the microphones, so a lot of the speakers were difficult to hear. Fortunately for Peter, he didn't need one and delivered his talk loud and clear.
Unlock that door with Raspberry Pi2, Azure ML and Service Bus
In this session, Steve had a bit of a hardware setup, where he had a bolted door wired up to a Raspberry Pi, which would trigger open when it received a signal from Azure Service Bus. The trigger was sent to the Service Bus by Azure Machine Learning, which was used to determine whether or not to open the door based on its ability to recognise a photo of Steve. Steve would take a photo of himself using his web cam, which would then be sent to Azure ML and ultimately open the door. It demonstrated good use of the Azure Machine Learning and Service Bus services and some interesting work with the RPI.
For me personally, I would have loved to have seen more about the RPI and how it was wired up and programmed, but Steve had a lot to cover. Unfortunately, unlike Peter Shaw, Steve suffered from the lack of microphone amplification and a lot of the time couldn't be heard even half-way back in the room. Not necessarily a fault of Steve's, but a microphone could have really helped him out here.
React for .Net Developers
I was quite excited about this particular talk, as I have been involved in learning (and very much enjoying) React and using it to develop some front-end UI as an alternative to KnockoutJS. Macs delivered on the most important point for me, which is how to integrate it into a .Net website. While he is a self-confessed non-expert in all things React, he managed to go over the basics about what React is and some of how it works. Then he went on to cover the .Net specifics, such as the helpers and the way in which React is used in a .Net project.
The talk was very engaging and I'd be interested to attend more of his in the future!
Summary
Overall, it was a fantastic day of talks and as ever the crew put on a brilliant, not to mention free event for all of us developers. I'm really looking forward to next year!